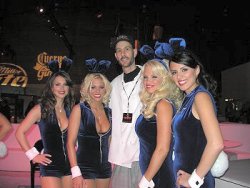 We had the honor of catering the hottest and most sought after event of Super bowl XL, held in Detroit, 2006. Two thousand of Hugh Heffner's closest friends were in attendance, inside three hangars at the Coleman A. Young Int. Airport.
We staffed the entire event including bartenders, bar backs, bussers, wait staff, cocktail servers, captains, chefs and dish staff all totaling 120 staff members. It took 3 months of planning, coordinating with the event planners from Las Vegas, Playboy corporate personnel from New York, numerous menu tastings and changes and countless hours of emails, phone calls and messaging.
The menu included Rack of Lamb, Lobster Corndogs, Coconut Chicken Skewers, a Sushi conveyor belt built just for the event and Lobster Lollipops to name a few items.
The entire event went off without a hitch-and after a 20 hour day we were back to work on our next big event!
BY THE NUMBERS: 26,000 square feet of silver carpet / 21,000 pieces of rented glassware / 18,000 servings of food / 10,400 shots of Cuervo tequila / 3600 bottles of Miller Beer / 1500 sq feet in on-site kitchen / 1,200 bags of Better Made potato chips / 150 man-hours of food prep time / 100 pounds of lobster tails / 2 30-foot bars / 250 pounds of Beef Tenderloin / 1 custom built conveyor belt for Sushi / 1 live-women dessert-table centerpiece
The Menu
PASSED HOR'S (v.i.p. room) Lite pastry pouch filled with portobella mushrooms & fontina cheese Sushi Tuna with Soy Dipping Sauce & Wasabi Cucumber cups stuffed with Thai chicken & Cashews Tenderloin Tip Brochettes with honey-teriyaki & sesame Lobster Corndogs with Sweet Citrus Mustard
SUSHI STATION on CONVEYOR BELT (4 TYPES)
ECCLECTIC STATION Smoked Norwegian Salmon with lemon, caper and dill with flatbreads Chili Garlic Marinated Chicken Skewers with lime, soy and cilantro Pommegranite Scented Coconut Chicken served with Grapefruit & Champagne Sauce Lobster Lollipops with sweet & spicy plum glaze/Wasabi Ginger with Chive sprinkles/Orange Balsamico–Displayed Beef Tenderloin Tip Brochettes with Honey Teriyaki Sauce New Zealand Baby Lamb Chops with Mango Salsa Mini Spinach & Feta Cheese Pies
NEWSROOM STATION (located at newsstand area) Station includes sandwiches on sliced sour dough rolls, focaccia, boules & breads, variety of sauces & spreads, variety of greens (Arugula, sprouts, watercress) Sandwiches filled with: Grilled Whole Tenderloin of Beef with hoisin, Dijon & five spice rub Maple Glazed Roasted Turkey Breast Mini Ruebins with Corned Beef & Slaw Sliced Portobella Mushrooms & Sweet Roasted Red Peppers with a Shaved Baby Carrot, waterchestnut and Cucumber Slaw served in a wrap with Gremolada Aioli
PLAYBOY DESSERTS
FRESH SWEET STRAWBERRIES DIPPED IN CHOCOLATE Milk chocolate, white chocolate, dark chocolate with chocolate drizzles
VARIETY OF HAND MADE MINI PASTRIES Chocolate dipped éclairs, Strawberry petit fours, Lemony tarts in a flaky pastry shell, Bittersweet chocolate truffles, Peanut crusted carrot cake, Chocolate fudge petit fours
Famous local chocolate decadence brownies (won numerous awards), Mini Pecan tarts with caramel middles