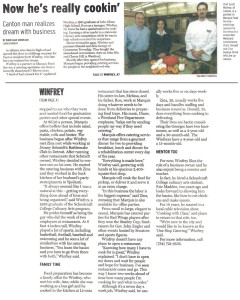 My name is Scott Winfrey and I am the chef and owner of Marquis Foodservice, Inc. We are a full service catering and service company which has the ability to provide meals for bulk or congregate feeding as well as individual meals for any number of people from small groups to thousands. We can also provide foodservice management of facilities and cafeterias if needed.
I am a 1988 graduate of the Culinary Arts Program at Schoolcraft College. I have worked in some of the areas top restaurants, including Executive Chef of the Rattlesnake Club in Detroit. While there I served as Director of Food Service overseeing the preparation of 15,000 meals per week for the senior centers across the city. Founded Marquis Foodservice, Inc. in 1998.
Marquis Foodservice would like the opportunity to provide your facility with the level of food and service that both you AND your clients deserve. We will guarantee hot, nutritious meals, prepared with the freshest ingredients, delivered in a timely manner and served with a smile. Because we use fresh ingredients and support many local suppliers, we are able to be very cost competitive. Furthermore, we are a small company and therefore you deal directly with the people in charge and who are able to solve any problems, answer any questions and make any changes that you may feel necessary.